FANCY! Pres – VARGENTA 🎧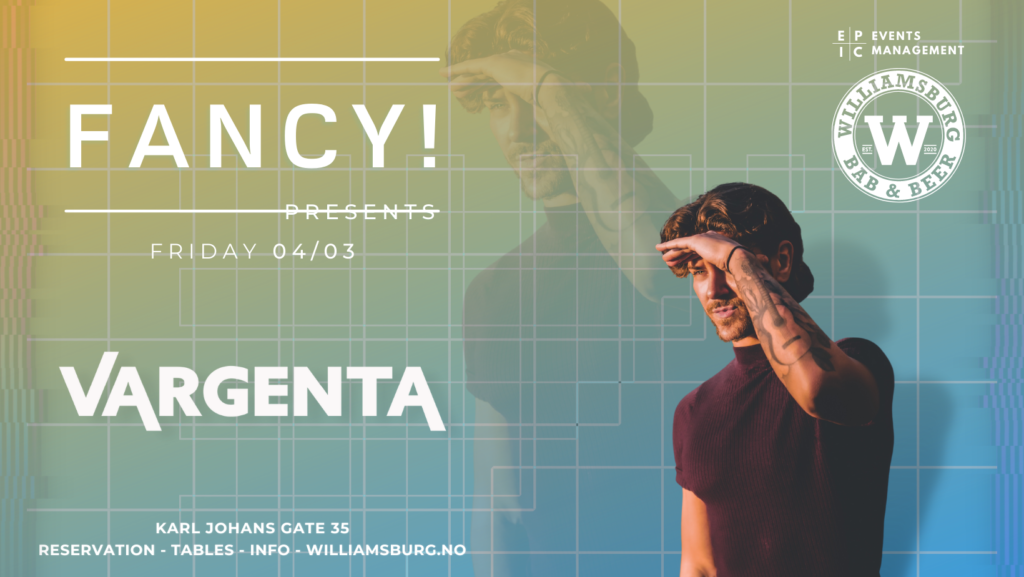 ATTENTION, LADIES AND GENTLEMEN
Let's get fancy on the floor till you can't dance no more!
On 4th of Mars, Williamsburg and Epic Events Management proudly presents – VARGENTA! 
Join us on the dance floor!
VARGENTA, aka Anders Hegrestad, is a music producer hailing from Stavanger, Norway.
VARGENTA has released music on big labels like Revealed Recordings and has been supported by iconic acts who played his tracks, including The Chainsmokers, Hardwell, Afrojack, Robin Schulz and Timmy Trumpet to name but a few. On top of this, VARGENTA came runner up in the KSHMR's "House of Cards" remix contest and has had his popular tracks played on stations such as NRK P3, BBC Radio and NRJ Norway.
The artist is currently working hard on his future releases, which will make definite waves in the EDM scene.
Check out the music here:
VARGENTA – Bad Habbit
https://open.spotify.com/track/57pchawV1Tlhk2Wfuu5mJn…
VARGENTA – Hate The Weekend
https://open.spotify.com/track/4fyyiNoA7f1bWHiofHTKgJ…
Support – Big D Bandido B2B SEN
▬▬▬▬▬▬▬▬▬▬▬▬▬▬▬▬▬▬▬▬▬▬▬▬▬▬▬▬▬▬▬
Table and Reservations: Click here!
▬▬▬▬▬▬▬▬▬▬▬▬▬▬▬▬▬▬▬▬▬▬▬▬▬▬▬▬▬▬▬
► WHEN: 04/03/2022 | 22.00 – 03.30
► WHERE: Karl Johans gate 35
► ENTRY: FREE
► ID 20 (Photo-ID)